In cases where you start using the GL system at the middle of the year, you can use this module to import those dat files so you can have complete QAP data for the whole year. Thus, you can use the 1604E to get all the data for the whole year and summarize them to generate the needed alphalist dat file.
Before you start importing, you must first delete the header and the footer of the DAT file using Notepad. See sample dat file open in a Notepad below:

Step-by-step instructions:
1. Click Cemtral Menu.
2. Select Systems -> BIR
3. Double-click Transactions -> eBIRFORMS 0619e/1601EQ-QAP. You will be redirected to QAP tab window.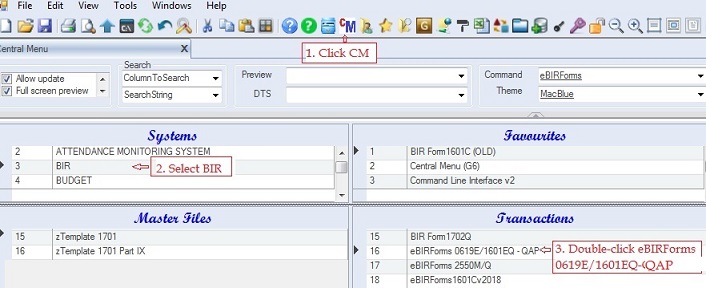 4. Select the company under the Company grid. If the company is not yet encoded, enter the company information at the end of the grid. Note:. BIR does not allow special characters such as , ' + &*, avoid using these characters when entering data for BIR modules.
5. Add BIR Return Info on the MAP Header. Fill-up all the necessary columns .
6. Click Tools -> Import/Export Service. You will be redirected to this Import/Export Service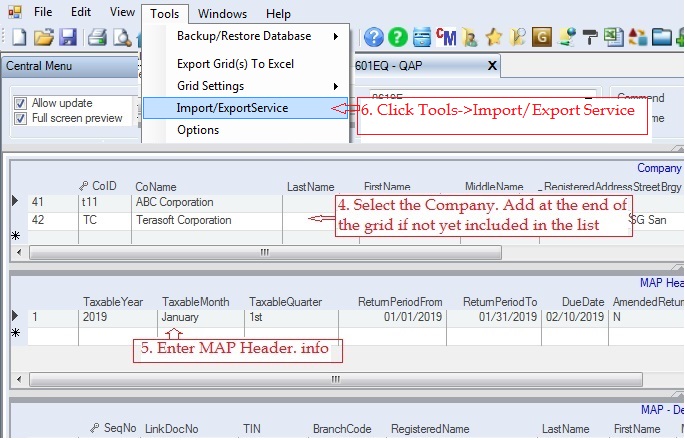 7. Click Browse and select the text/dat file. Make sure the header and footer of the dat file are deleted.
8. Click Mapping Schema button
9. Select QAP mapping schema form the list
10. Click Insert Selected Row(s) button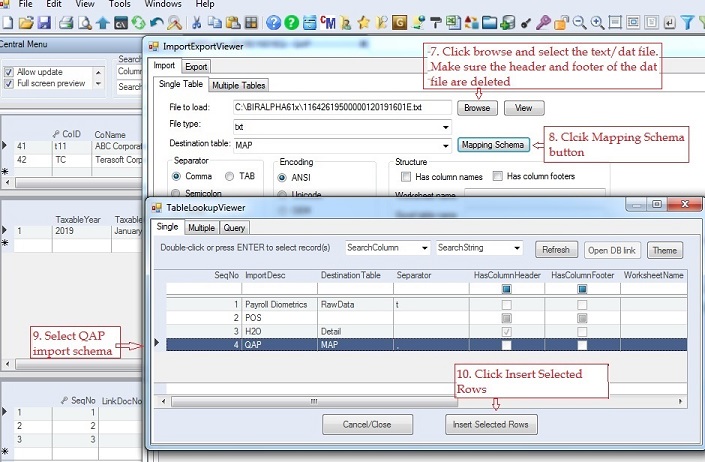 Make sure you selected the right company and Return info before doing steps #7 - #10 above. In the above sample the selected company is ABC and the Return or Map info is January 2019
11. Click Get Data button. The grid RawData will be filled up with the dat file data at this time.
12. Click Preview button. The grid Mapped Data will be filled up at this time
13. Click either Merge to data grid or Merge to data table. The latter is faster than the former.
14. Click Yes to merge or import the data
15. Close the Import/Export Service. The imported data are shown under the MAP detailed grid.
16. Click Save icon. Do the same for the other months that you want to import.