The 11th Commandment: "Backup Thy Copy"
It's highly recommended to create a backup copy of your database on a daily basis and keep it in a safe place. For on premise SQL database, your system administraor creates a scheduled backup of your database. It's a good practice to assign one person responsible for the daily backup of your database.
Step-by-step instructions:
1. Click Tools -> Backup/Restore Database .-> Backup. You will be redirected to the Backup/Restore Database window form

2. Click Browse and select the folder where you want to save the backup.
3. Click Full for the backup type
4. Click Backup. Upon completion, a message will be shown if backup is successfully completed.
If the Backup button is disabled, enter SecurityID to enable it. You may click Save so that the next time you make your backup, you will not be prompted for SecurityID anymore.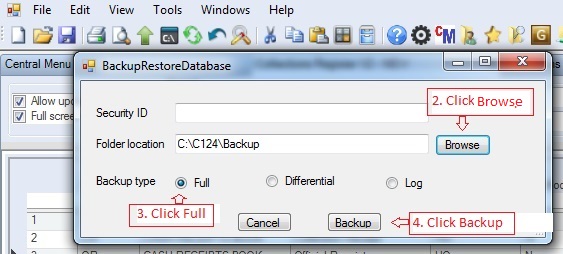 5. Close the backup window form and store your backup copy in a safe place..
---